Sophos AP6 420X Access Point

The smarter way to simple, secure Wi-Fi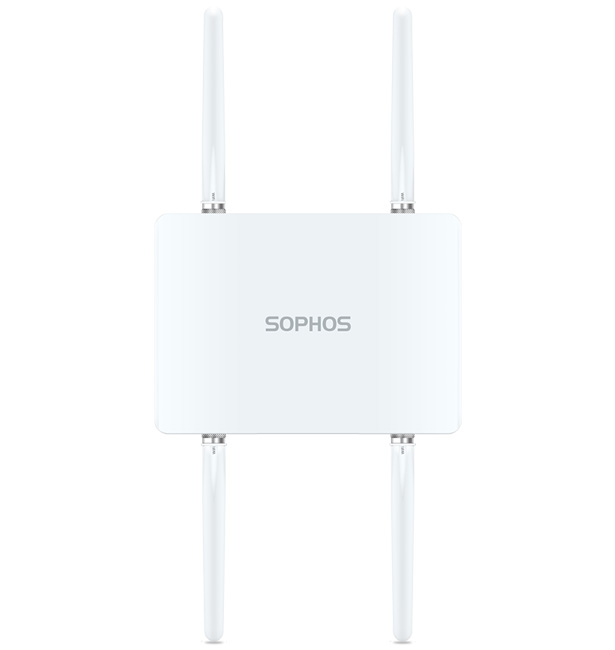 Sophos Products
Sophos Access Point
Sophos AP6 420X Outdoor Access Point (US) plain, no power adapter/PoE Injector
#AP42XU00ZZPCNP
List Price: $1,150.00
Add to Cart for Pricing
More pricing below, click here!
Overview:
The smarter way to simple, secure Wi-Fi
Sophos Wireless and our unified cloud management platform simplify your wireless network management and security, saving you valuable time and resources.
---
Sophos Wireless: As Easy as 1-2-3
Your Wi-Fi networks will be up and running in no time with our three-step setup.
One Platform
With our single-platform approach, your Wi-Fi is always just one click away from your next Sophos solution. You can manage your Wi-Fi alongside your firewalls and switches, endpoint and server security, email protection, and more.
Two Ways to Manage
Remotely manage your full Wi-Fi estate in Sophos Central or make individual AP settings in the local user interface (AP6 Series only).
Three Steps to Connect
Sophos Wireless is easy to set up and deploy. Create a wireless network, register your access point, save, and connect. This simple onboarding process ensures that your Wi-Fi networks are up and running in minutes.
---
Our Pragmatic Approach to Cybersecurity
Our range of award-winning solutions and services simplifies your security and allows you to focus on your core business objectives. While your IT peers are switching from one console to the next in their complex, multi-vendor environments, you can have a single pane of glass for everything.
Spotlight on Secure Access
Our portfolio includes products and solutions for secure access inside and outside of your network. We offer ZTNA to provide granular access to applications, SD-WAN and remote Ethernet devices to secure your branch office connectivity, Sophos firewalls for the ultimate in network security and performance, and switches to power your access points and offer better network control.
You could use multiple consoles to manage your access and security, but all you need is one.
---
Highlights
Scalable cloud platform for remote management
Local web interface to manage a single AP
Better performance and security with Wi-Fi 6/6E access points
Wi-Fi 5 option available for firewall management
Captive portal for guest and visitor access
Managed alongside the entire Sophos ecosystem of cybersecurity solutions
Pricing Notes:
NOTE: Management in Sophos Central only. XG Firewall support – date TBC.
Pricing and product availability subject to change without notice.
Sophos Products
Sophos Access Point
Sophos AP6 420X Outdoor Access Point (US) plain, no power adapter/PoE Injector
#AP42XU00ZZPCNP
List Price: $1,150.00
Add to Cart for Pricing
Sophos Support
Access Points Support for AP6 420X - 12 MOS
#AP42XS12ZZNCAA
List Price: $115.00
Add to Cart for Pricing
Access Points Support for AP6 420X - 24 MOS - Renewal
#AP42XS24ZZRCAA
List Price: $230.00
Add to Cart for Pricing
Access Points Support for AP6 420X - 12 MOS - Renewal
#AP42XS12ZZRCAA
List Price: $115.00
Add to Cart for Pricing
Access Points Support for AP6 420X - 24 MOS
#AP42XS24ZZNCAA
List Price: $230.00
Add to Cart for Pricing
Access Points Support for AP6 420X - 36 MOS
#AP42XS36ZZNCAA
List Price: $345.00
Add to Cart for Pricing
Access Points Support for AP6 420X - 36 MOS - Renewal
#AP42XS36ZZRCAA
List Price: $345.00
Add to Cart for Pricing
Sophos Accessories
Sophos AP6 Mounting bracket kit for plenum & flat ceiling mount (for AP6 420, 420E, 840, 840E only)
#MKMBAP00ZZPCAA
List Price: $55.00
Add to Cart for Pricing
Sophos APX/AP6 Suspend mount kit (for APX320, 530, 740 and AP6 420, 420E, 840, 840E only)
#APXZTCHSM
List Price: $47.08
Add to Cart for Pricing