Sophos Competitive Trade-In

Give Your Firewall Business an Extra Boost

Sorry, this promotion has ended and is no longer valid.
Replace your existing competitive firewall with a new XGS Series hardware appliance and get 99% discount on the hardware plus 1% discount on Xstream Protection. Sophos Firewall and the XGS Series appliances give you the very best in protection and performance to power and protect your network. From the smallest office or retail outlet to larger distributed and campus networks, our XGS Series includes multiple form factors to suit the requirements of many different environments.
This offer is valid for customers who are completely new to Sophos and for existing customers with other Sophos products, but who do not own a Sophos firewall of any kind.

Promotion End: September 30, 2023
---
Promotion begins April 1, 2023, and ends September 30, 2023. This Promotion may not be combined with other Sophos promotional offers and may not be used in combination with additional discretionary discounting. This Promotion must be applied at the time of purchase and cannot be retrospectively applied to previous orders or transactions. Additional terms and conditions may apply. This offer may be modified, discontinued or terminated by EnterpriseAV at any time without notice.
Featured Products
XGS Series Appliances
Powerful Protection and Performance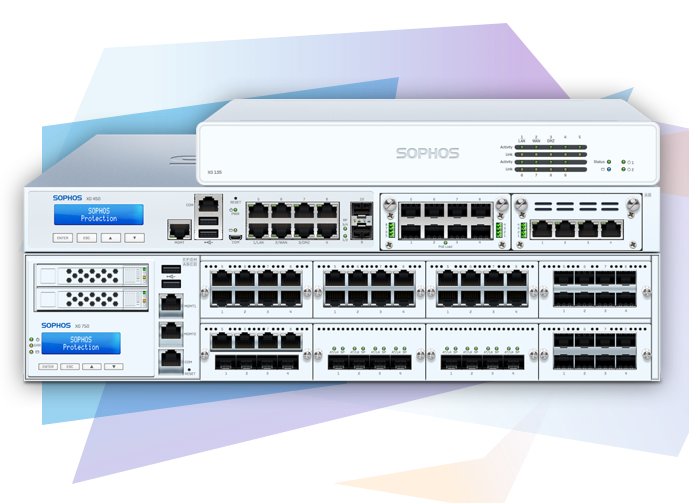 Sophos Firewall and the XGS Series appliances with dedicated Xstream Flow Processors enable the ultimate in application acceleration, high-performance TLS inspection, and powerful threat protection.
Whether you're protecting a small business or a large datacenter, you're getting industry-leading price: performance, and the ultimate in flexibility, connectivity, and reliability in every form factor.
---
Benefits
Powerful Protection and Performance: Sophos Firewall's Xstream architecture provides protection from the latest threats whilst accelerating important cloud, SD-WAN and other app traffic. The dual-processor XGS Series models include a dedicated hardware FastPath for trusted traffic, freeing up resources for important deep packet and TLS inspection for the traffic that needs it.
Xstream Protection: A single license bundle for advanced protection with Network, Web and Zero-Day Protection plus Central Orchestration for SD-WAN VPN orchestration and a 30-day Central Reporting Advanced data retention period. Rounded out with Enhanced support, this bundle has everything you need to protect your network
XDR/MDR Connector: Extend your protection beyond your firewall, e.g., with Sophos Managed Detection and Response. Sophos Firewall works in combination with other Sophos products which are licensed separately.
---
Sophos Firewall's Xstream architecture protects your network from the latest threats while accelerating your important SaaS, SD-WAN, and cloud application traffic.
XGS Firewall Xstream TLS Inspection
Industry-leading performance and visibility into all the encrypted traffic on your network with support for TLS 1.3
XGS Firewall Xstream DPI Engine
High-performance deep packet protection in a single streaming engine for stopping all known and unknown threats
XG Firewall Xstream Network Flow FastPath
Accelerate trusted and important cloud, SaaS, and VoIP application traffic for optimal performance