Managed Detection and Response Services Buyers Guide
Few organizations have the right tools, people, and processes in-house to effectively manage their security program around-the-clock while proactively defending against new and emerging threats. As a result, organizations are increasingly looking towards managed detection and response (MDR) services to run their security operations program.
See how the different MDR providers stack up.
Understand the key benefits of implementing a MDR service as part of your cybersecurity strategy

Get an overview of the key considerations when choosing a MDR service

Compare the leading vendors including Sophos, Carbon Black, Huntress, Perch, Arctic Wolf, eSentire, Expel, Rapid7, Red Canary, SentinelOne, and CrowdStrike.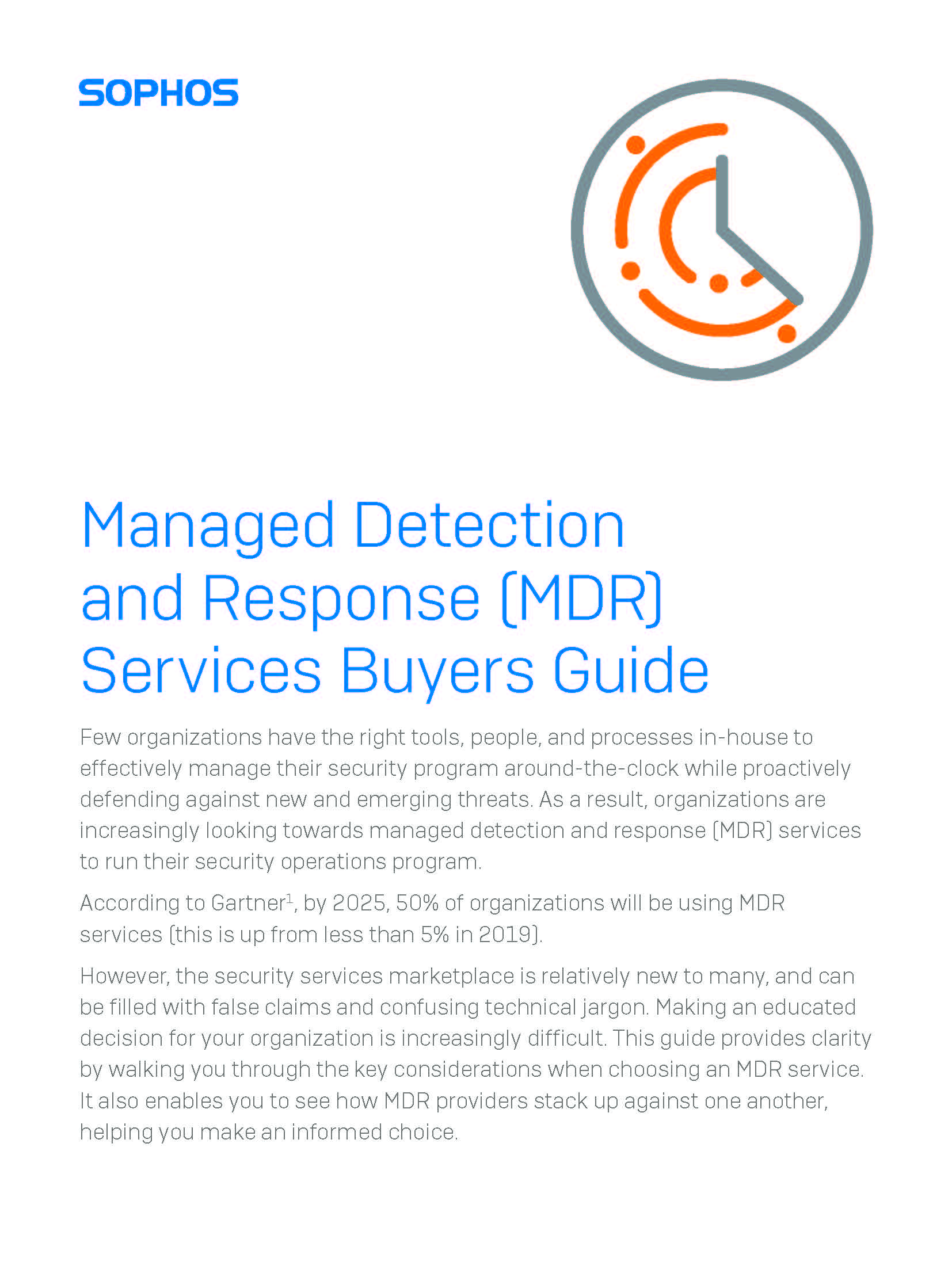 Security operations requires skilled professionals
The cybersecurity industry is experiencing a massive gap in talent and experience. As a result, organizations are struggling to build effective security operations (SecOps) programs to detect, investigate, and respond to threats before damage occurs.
While tools, such as EDR, are built to hunt for threats and respond to incidents, they still require a skilled operator to benefit from all their capabilities. In a 2019 survey of 2,300 IT and security professionals2, 54% of respondents claimed they were "unable to take full advantage of their EDR solution" due to a lack of experienced talent.
This problem is so widespread among organizations that according to analyst research firm ESG3, "34% say their biggest challenge is that they lack skilled resources to investigate a cybersecurity incident involving an endpoint to determine root cause and the attack chain."
With security threats growing in both volume and sophistication how are organizations expected to keep up without aggressively ramping up their security operations team? This dilemma has given way to a new alternative: managed security services. Specifically, managed detection and response (MDR) services.
Managed Detection and Response (MDR) service definition
Managed detection and response (MDR) services are outsourced security operations delivered by a team of specialists. MDR services act as an extension of the customer's security team, combining human-led investigations, threat hunting, real-time monitoring, and incident response with a technology stack to gather and analyze intelligence.
MDR providers often use a combination of host and network-layer technologies as well as advanced analytics, threat intelligence, forensic data, and human expertise to rapidly identify and neutralize threats. The goal of MDR is to detect and respond to threats in customer environments that have circumvented preventative security controls. These preventive controls—such as firewalls, antivirus, and content filtering—are effective at stopping known commodity threats but can fail to successfully defend against new and sophisticated cyberattacks. MDR providers have risen to fill the threat detection and response gap left by these tools.