Sophos Central Intercept X Advanced for Server with XDR and MTR Advanced

Next-Generation Anti-Exploit, Anti-Ransomware, and Root Cause Analysis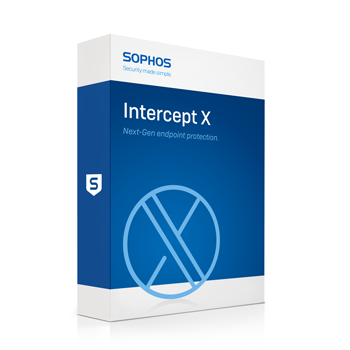 Sorry, this product is no longer available, please contact us for a replacement.
More pricing below, click here!
Overview:
Sophos Intercept X for Server is the industry leading Server Security solution that reduces the attack surface and prevents attacks from running. Combining anti-exploit, anti-ransomware, deep learning AI and control technology it stops attacks before they impact your systems. Intercept X for Server uses a comprehensive, defense in depth approach to server protection, rather than relying on one primary security technique.
Highlights
Secures cloud, on-premises and virtual server deployments
Stops never seen before threats with deep learning AI
Blocks ransomware and rollback files to a safe state
Prevents the exploit techniques used throughout the attack chain
Performs threat hunting and IT ops security hygiene with XDR
Understand and secure your wider cloud environment such as S3 buckets and databases
Provides 24/7/365 security delivered as a fully managed service
Stop Unknown Threats
Deep learning AI in Intercept X for Server excels at detecting and blocking malware even when it hasn't been seen before. It does this by scrutinizing file attributes from hundreds of millions of samples to identify threats without the need for a signature.
Block Ransomware
Intercept X for Server includes advanced anti-ransomware capabilities that detect and block the malicious encryption processes used in ransomware attacks. Files that have been encrypted will be rolled back to a safe state, minimizing any impact to business productivity.
Prevent Exploits
Anti-exploit technology stops the exploit techniques that attackers rely on to compromise devices, steal credentials and distribute malware. By stopping the techniques used throughout the attack chain Intercept X for Server keeps your organization secure against file-less attacks and zero-day exploits.
Control Your Servers
Ensure only what you want can run. Server Lockdown (whitelisting) makes sure that only applications you have approved can run on a server. File Integrity Monitoring will notify you if there are unauthorized attempts to change critical files.
See Your Wider Cloud Environment
Understand and secure your entire multi-cloud inventory. You can detect your cloud workloads as well as critical cloud services including S3 buckets, databases and serverless functions, identify suspicious activity, spot insecure deployments and close security gaps.
Pricing Notes:
Pricing and product availability subject to change without notice.
Full Endpoint Agent and Sophos for Virtual Environments light agent cannot be deployed on the same computer.
Includes choice of:
Endpoint Agent: (Windows/macOS) Anti-malware, Live Protection, Web Security, Web Control, Malware Removal, Peripheral Control, Application Control, Synchronized Security Heartbeat (Windows only) Behaviour Analysis/HIPS, Data Loss Prevention, Download Reputation, Malicious Traffic Detection, Exploit Prevention, Cryptoguard Anti-Ransomware, Sophos Clean, Root Cause Analysis.
Sophos for Virtual Environments, Light Agent off-board scanning: (Windows Desktop VMs) Anti-malware, Live Protection, Malware Removal
* Security Heartbeat functionality is available when Endpoint Advanced is used in conjunction with one of the following Sophos Firewall subscriptions - Network Protection, FullGuard or EnterpriseGuard.