Sophos Reflexion Total Control Email Security

Blocks spam, viruses and volume-based attacks before they reach the corporate network

Overview:
Reflexion Total Control (RTC) is a hosted email security service that blocks unwanted email before it reaches the corporate network. Reflexion's unique technology also identifies address-sharing and the sources of spam, and provides concrete tools for preserving the integrity of one's primary email address. Automatic inbound email queuing assures email continuity in the event of a local server outage, and outbound email filtering protects one's reputation and helps to avoid the business disruption of IP address blacklisting. Reflexion's service provides the configurability that IT solution providers need to address a wide range of customer requirements, with the automation and simplicity that ISPs require for their subscribers. Implementation simply requires an MX record change.
The following diagram describes the various stages in RTC's defense-indepth. With its bredth of capabilities, Reflexion's defense is also uniquely configurable, providing the versatility that email administrators and solution providers require to address the widest range of end user requirements. Mail for a specific user will only be subjected to the tests dictated by their configuration. Additionally, the architecture is extensible, so that new defenses can be added as they become available or desirable.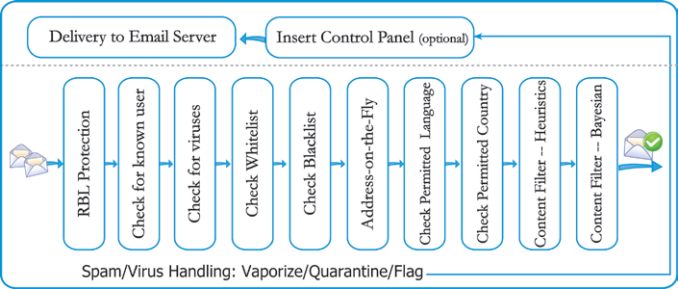 Pricing Notes:
Pricing and product availability subject to change without notice.