Securing Small Businesses Against Advanced Cyberthreats

End-to-End Security to Protect Your Data
Securing Small Businesses Against Advanced Cyberthreats
Sophos MDR is the leading Managed Detection and Response service for small businesses
Overview:
Small businesses are a prime target for cybercriminals because they often lack the cybersecurity technologies and resources required to combat today's advanced threats. As cyberthreats grow in both volume and complexity, many small businesses are turning to the Sophos Managed Detection and Response (MDR) service for protection against advanced attacks that technology alone cannot prevent. This solution brief explores the cybersecurity challenges facing small businesses and introduces Sophos MDR, the number one MDR service supporting small businesses today.
Small businesses are a major target for cyberthreats:
157%
increase in ransomware attacks on small businesses in 2021
46%
of small businesses report increase in attack complexity
50%
of small businesses report increase in attack volume
---
Whitepaper: Securing Small Businesses Against Advanced Cyberthreats
59% of small businesses were hit by ransomware in 2021, up from 23% in 2020.This 157% rise over the course of a year demonstrates the rapid acceleration of the cyberthreat challenge facing small businesses.
More broadly, IT Managers within small businesses reported a significant increase in the volume (48%), perceived complexity (50%) and impact (46%) of cyberattacks over the last year. As cyber criminals continue to leverage automation and the 'malware-as-a-service' model in their attacks, these numbers are only set to increase.
Don't be a statistic, find out how to defend your small business with Sophos.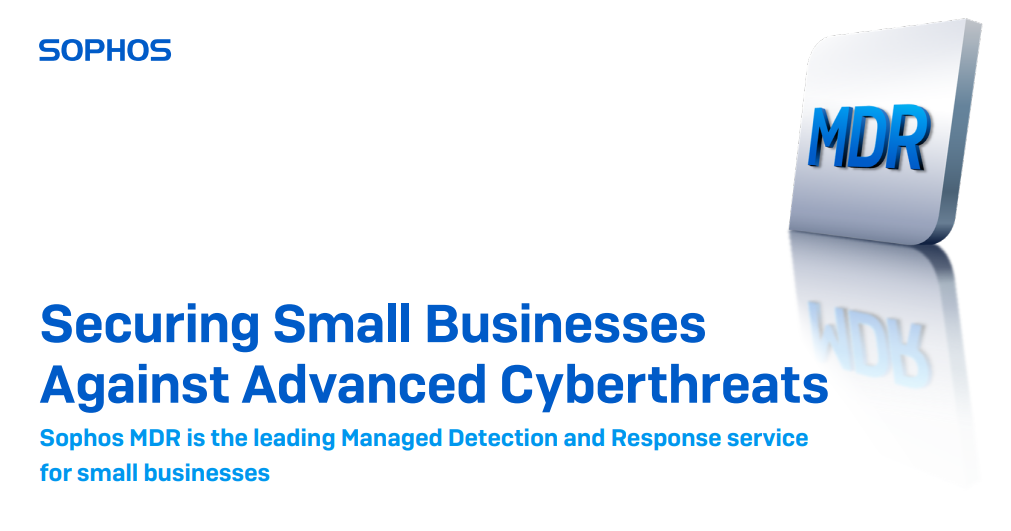 ---
The Cybersecurity Challenge Facing Small Businesses
The impact of cyberthreats on small businesses is severe:
A major cyber incident has very considerable financial and operational repercussions for small businesses. In 2021, the average ransom paid by small businesses was a crippling $1.12 million. While this includes a small number of very large payments, almost half (45%) paid between $100,000 and $500,000. Furthermore, the average overall cost to remediate a ransomware attack for these organizations was $750,000, with over a quarter (28%) of encrypted data remaining unrecovered after the incident.
Over three quarters (77%) of small businesses hit by ransomware said the attack impacted their ability to operate while 72% said it caused them to lose business/revenue. If IT systems go down, the ability of many small businesses to serve their customers is often severely inhibited, with major commercial consequences. In addition, recovery can be time-consuming with a quarter (25%) of small business ransomware victims taking over a month to get back to normal after the attack.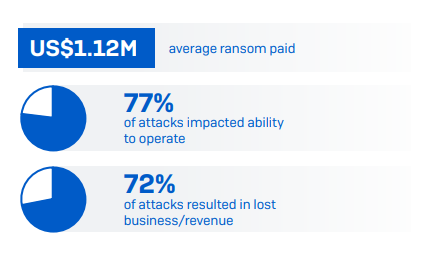 ---
Sophos MDR: Securing Small Businesses Worldwide
As the cybersecurity challenge continues to grow, small businesses are increasingly turning to the Sophos MDR service to help them stay ahead of today's advanced threats.
---
Sophos Managed Detection and Response (MDR) is a fully managed service delivered by experts who detect and respond to cyberattacks targeting your computers, servers, networks, cloud workloads, email accounts, and more.
Detect: We monitor your environment 24/7, collecting, contextualizing, and correlating security data from the Sophos Adaptive Cybersecurity Ecosystem and your existing cybersecurity investments to identify suspicious activities
Investigate: Expert human operators investigate potential incidents, leveraging our deep financial services sector and threat expertise to hunt for signs of adversarial activities
Remediate: Analysts quickly remediate attacks across the broad range of your environment, before they turn into something more damaging such as ransomware or a wide scale data breach
Review: Comprehensive root cause analysis of incidents together with regular health checks and weekly and monthly reporting enable you to improve security posture and prevent future recurrence
A service designed around you
We understand that each healthcare organization is different with their own existing security investments, IT/cybersecurity staff, and IT environment. Sophos MDR meets you where you are: you choose the level of support required, whether you want us to notify you of threats so your team can take remedial action, contain threats on your behalf, or provide full incident response and root cause analysis. Our security specialists will work with you to identify the right approach for your organization.
With an average time to detect, investigate and remediate of just 38 minutes, Sophos MDR is more than 5 times quicker than even the fastest in-house security operations team.
Elevate your protection using your existing investments
Endpoint telemetry to spot malicious activities and attack behaviors
Firewall data to detect intrusion attempts and beaconing
Network telemetry to identify rogue assets, unprotected devices, and novel attacks
Email alerts to pinpoint initial entry into the network and attempts to steal access data
Identity data to detect unauthorized network entry and attempts to escalate privileges
Cloud alerts to indicate unauthorized network access and efforts to steal data
---
Sophos MDR
24/7 real-time threat monitoring and response
Expert lead threat hunting
Cross-product (Sophos and third-party) consolidation and correlation of security event data
Full-scale managed incident response (unlimited number of hours; no additional fees or retainers)
Best in class breach protection warranty
Dedicated incident response lead assigned
Direct call-in support to Sophos security operations centers (6 global SOCs)
Weekly and monthly activity reports
Monthly intelligence briefings
Root cause analysis performed to improve security posture and prevent recurrence of future threats
Regular Sophos account health checks to review configurations and ensure optimal performance
"My overall experience with Sophos MDR has been nothing short of spectacular, the service is driven by a team of experts coupled with machine learning technology gives you a complete visibility of your infrastructure. All threats happening across are being monitored and contained remotely by the MDR team." -Gartner Peer Insights
"The quality of the security, which gives us peace of mind knowing that we have a team watching our back and we aren't alone in keeping our business and client data safe." -Gartner Peer Insights
"Great partnership with Sophos, strongly recommend." -Gartner Peer Insights
Featured Products: