Sophos XG Firewall Products

The world's best visibility, protection, and response.
Sophos XG Firewall Products
Sophos XG Firewall brings a fresh new approach to the way you manage your firewall, respond to threats, and monitor what's happening on your network.
Sophos XG Series Appliances
Sophos XG Virtual Firewalls
Licenses, Subscriptions & Renewals for XG Series
XG includes a Base license which is required for all hardware and virtual firewalls and is perpetual. Additional features can be purchased as 1, 2, or 3-year subscriptions (irregular terms greater than 1 year are also possible). The subscriptions can be purchased individually or as bundles. Some of the bundles include a hardware or virtual appliance, which includes the perpetual Base license, and other bundles contain the subscriptions only.
The chart below shows all the bundles (orange text) and within each bundle, the individual subscriptions are shown. If the bundle name includes 'Protect' then it contains either an XG series hardware appliance or a virtual appliance. Learn More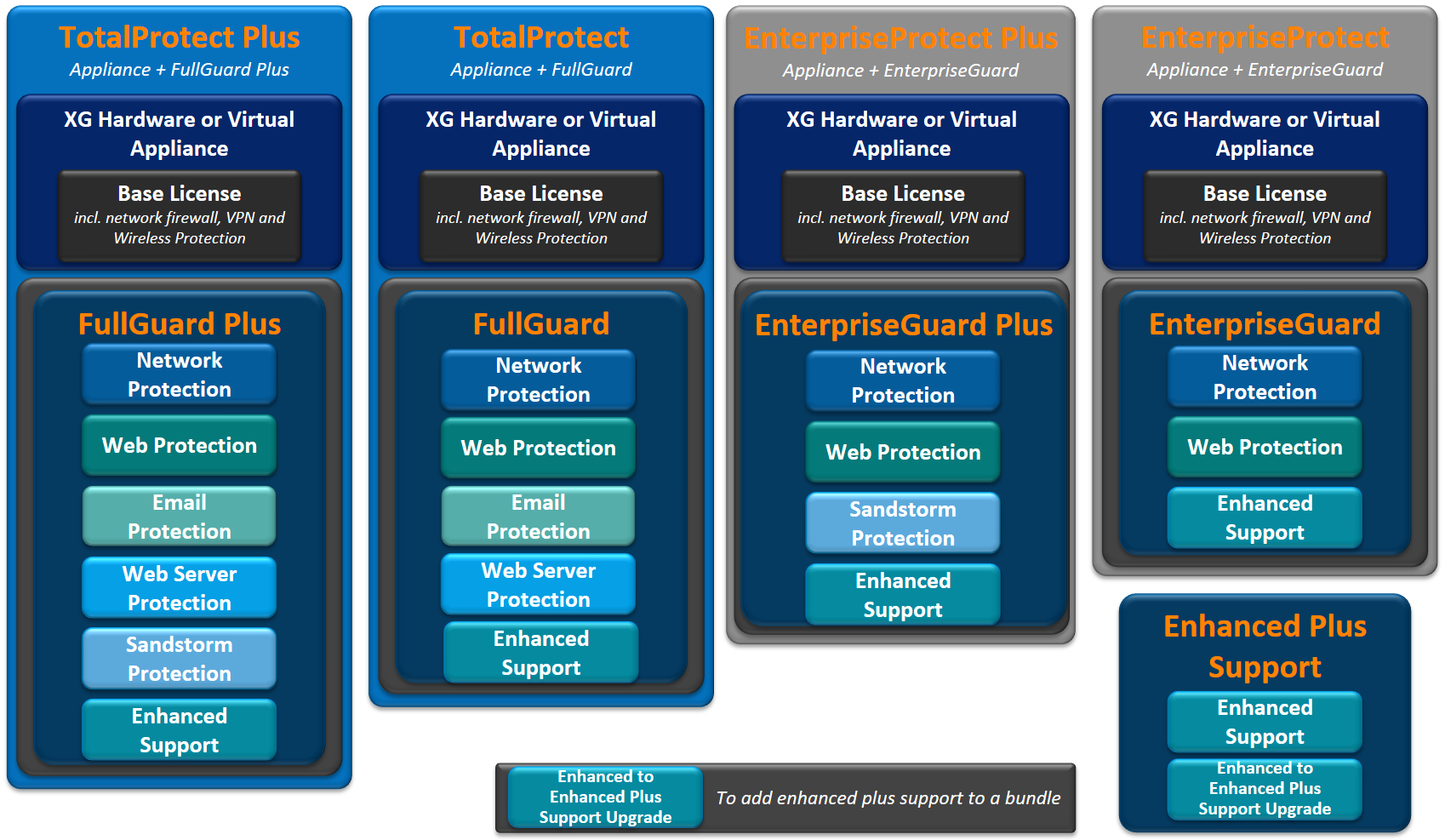 There are 2 levels of support 'Enhanced' and 'Enhanced Plus'. The higher level of support provides direct access to senior Sophos support staff and also provides a warranty for any connected Sophos devices. If you are buying individual subscriptions and want a higher level of support, you should purchase the Enhanced Plus Support bundle. If you are buying any of the other bundles then the bundle includes Enhanced Support and you can add the higher level of support by purchasing the 'Enhanced to Enhanced Support Upgrade' product. Learn More
Sophos XG Firewall Ecosystem and Central