Sophos SG 210

Unleash the full potential of your network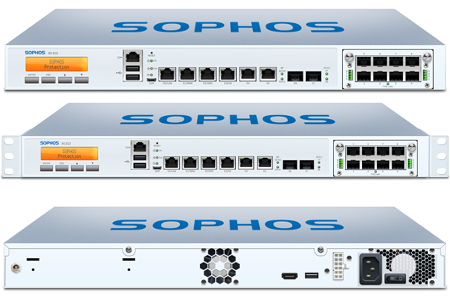 Sophos Products
SG 210 Security Appliance
Sophos SG 210 Rev.3 Security Appliance - US power cord
#SG21T3HUS
List Price: $2,023.00
Add to Cart for Pricing
Sophos SG 210 TotalProtect 24x7
SG TotalProtect includes: Appliance, FullGuard Subscription (Network Protection, Web Protection, Email Protection, Wireless Protection and Webserver Protection) and Sophos 24/7 support
Sophos SG 210 Rev.3 TotalProtect 24x7, 1-year (US power cord)
#SB2113SUSK
List Price: $4,538.00
Add to Cart for Pricing
Sophos SG 210 Rev.3 TotalProtect 24x7, 2-year (US power cord)
#SB2123SUSK
List Price: $7,052.00
Add to Cart for Pricing
Sophos SG 210 Rev.3 TotalProtect 24x7, 3-year (US power cord)
#SB2133SUSK
List Price: $9,566.50
Add to Cart for Pricing
More pricing below, click here!
Overview:
With bandwidth requirements constantly increasing, network security appliances need to do more than ever before. The Sophos SG Series appliances are built to provide optimal performance, versatility and efficiency to meet all your security needs.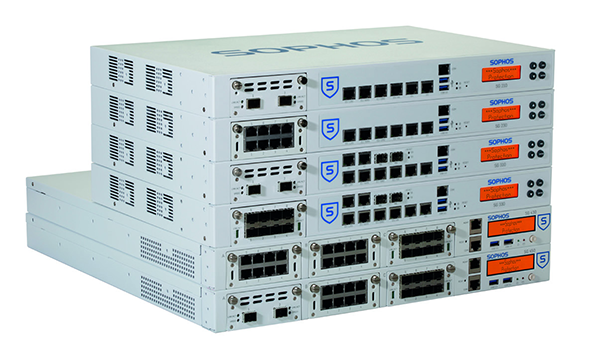 The Sophos SG Series appliances are designed to provide the optimal balance between performance and protection – for diverse IT environments. Whether you need a solution for a small remote office, want to protect your school campus, or are a global organization requiring high-availability and enterprise-grade features, our SG Series appliances are an ideal fit.
Versatile
Appliances to suit every environment Our broad product line-up makes it easier for you to choose the right appliance. A higher model number indicates higher throughput and an increased number of ports or connectivity options.
And as every software subscription is available on every appliance, you can flexibly size the solution to fit your budget and your individual security needs. Next-generation firewall features or all-in-one security on a single box, it's your choice.
Rapid
Proven performance on all models Our appliances are built upon the most advanced Intel technology. Optimized use of multi-core processors allows consolidation of your security solutions without a performance trade-off.
With faster than ever firewall, IPS and VPN throughput, our SG Series appliances effortlessly handle multiple tasks simultaneously. Plus, you can easily scale up by dynamically clustering up to 10 units without external load balancers.
Responsive
Technology built to process data in real-time Your network is constantly changing so your protection needs to be adaptive. All our appliances have integrated high-speed hard drives (in many cases SSDs) for local storage of spam quarantine data and faster access to comprehensive reports and real-time logs.
Accelerated in-memory content scanning in secure proxy mode makes your defenses more effective and efficient.
Reliable
Engineered for business – today and tomorrow Using the latest Intel technology, our products provide the maximum in flexibility to add to your protection as you need it - without changing or upgrading your hardware. So you benefit from future software and performance enhancements which guarantee the best possible value for your money. Our SG 450 offers unmatched enterprise-grade features for high-availability on a 1U rack-mountable appliance.
Modular
Flexible configuration options on many models Configure your hardware to suit your infrastructure, even when that changes. Our optional FleXi Port LAN modules give you the freedom to select the connectivity you need – copper, fiber, 10GbE – you decide.
And because they're fully interchangeable between the mid-range models, if you do choose to upgrade to a larger appliance, you simply swap your old appliance's module to the new one.
Key Features:
The Sophos SG Series appliances offer many features that make your network protection easier to manage and simpler to deploy.
Intel technology inside
Our hardware uses the latest Intel technology to provide the best performance and ensure the optimal use of resources.
By using standard Intel technology rather than customized hardware chips, our appliances are easy to upgrade and benefit from future software enhancements. That gives you greater flexibility and value for your money.
Solid State Drives – fast access, low impact
Solid State Drives, or SSDs, provide faster data storage without the performance impact of rotating drives. Whether you're scanning large volumes of emails, or generating highly complex reports, they allow you to get more done faster.
As there are no moving parts, they provide a reliable highcapacity solution for your network with all functionality on the box, rather than requiring a separate appliance.
FleXi Ports – customize your connectivity
FleXi Port modules let you tailor your security appliance to fit your network connectivity needs.
On our SG 2xx, 3xx and 4xx appliances, you can select additional modules with copper and 1/10 GbE fiber interfaces to easily expand and upgrade your hardware.
They're fully interchangeable between models, so if your business grows and you upgrade, you can simply take the module you've already purchased and slot it into your new appliance – for example, going from an SG 210 to an SG 330.
LCD Display – everything in view
The multi-function LCD display allows you to quickly check the status and do basic administrative tasks directly on the appliance.
You can directly connect a monitor using the built-in VGA port.
| | |
| --- | --- |
| 8 port GE copper Flexi Port module | 8 port GE SFP FleXi Port module |
| 2 port 10 GE SFP+ FleXi Port module | LCD Display |
Compare Models:
This is what you get with every Sophos SG Series firewall:
The latest Intel multi-core technology for optimal performance and efficiency
The same security features available on every size of appliance
Built-in HDD or SSD as storage for local quarantine data, logs and reporting
FleXi Port modules available for all 1U and 2U appliances (interchangeable within a range, e.g. 1U)
Free Sophos UTM Manager (SUM) to manage multiple appliances
Possibility to dynamically cluster up to 10 appliances of the same kind – without external load balancers
Model
Tech. Specs
Throughput
Form Factor
Ports/Slots (Max Ports)
w-model 802.11 wireless
Swappable Components
Firewall (Mbps)
VPN (Mbps)
NGFW (Mbps)
AV-proxy (Mbps)
SG 105(w)
desktop
4
a/b/g/n
n/a
1,500
325
350
90
SG 115(w)
desktop
4
a/b/g/n
n/a
2,300
425
500
120
SG 125(w)
desktop
8
a/b/g/n/ac
n/a
3,100
500
750
200
SG 135(w)
desktop
8
a/b/g/n/ac
n/a
6,000
1,000
1,500
350
SG 210
1U
6/1 (14)
n/a
n/a
11,000
1,000
2,000
500
SG 230
1U
6/1 (14)
n/a
n/a
13,000
2,000
3,000
800
SG 310
1U
10/1 (18)
n/a
n/a
17,000
3,000
5,000
1,200
SG 330
1U
10/1 (18)
n/a
n/a
20,000
4,000
6,000
1,500
SG 430
1U
8/3 (24)
n/a
n/a
25,000
4,000
7,000
2,000
SG 450
1U
8/3 (24)
n/a
opt. Power
27,000
5,000
8,000
2,500
SG 550
2U
8/4 (32)
n/a
Power, SSD, Fan
45,000
8,000
12,000
3,500
SG 650
2U
8/6 (48)
n/a
Power, SSD, Fan
65,000
10,000
16,000
5,000
Deployment:
Whatever your deployment scenario, these appliances can handle multiple security solutions in every situation. The following diagrams show typical deployments in this range.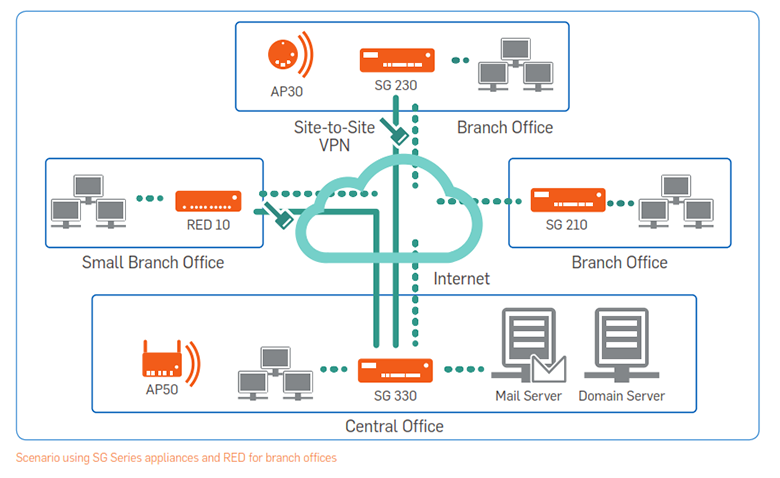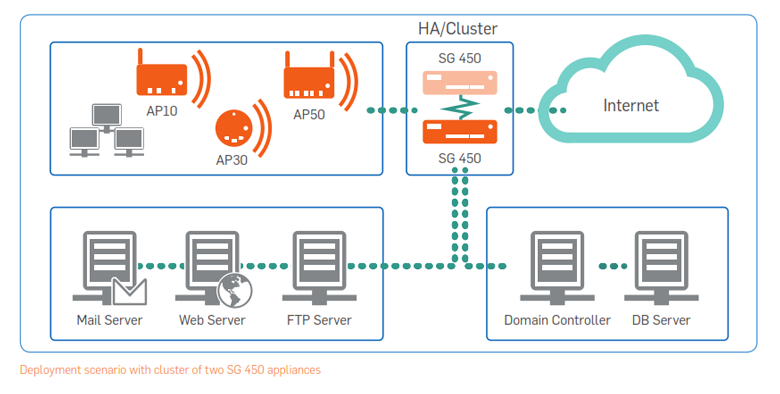 Specifications:
The Sophos SG 210 and SG 230 are designed to protect small to mid-sized businesses and branch offices. Based on the latest Intel technology and equipped with 6 GbE copper ports plus one FleXi Port slot to configure with an optional module, they provide high flexibility and throughput at an excellent price-to-performance ratio. As with all models, you can dynamically cluster up to 10 of these appliances.
SG Series Appliances: SG 210, SG 230
Front View
Performance
SG 210
SG 230
Firewall throughput
11 Gbps
13 Gbps
VPN throughput
1 Gbps
2 Gbps
IPS throughput
2 Gbps
3 Gbps
Antivirus throughput (proxy)
500 Mbps
800 Mbps
Concurrent connections
2,000,000
2,500,000
New connections/sec
20,000
22,000
Maximum licensed users
unrestricted
unrestricted
Back View
Physical interfaces
Hard drive (local quarantine/logs)
integrated HDD
integrated SSD
Ethernet interfaces (fixed)
6 GE copper
6 GE copper
No. of FleXi Port slots
1
1
FleXi Port modules (optional)
8 port GE copper
8 port GE SFP
2 port 10 GE SFP+
8 port GE copper
8 port GE SFP
2 port 10 GE SFP+
I/O ports
2 x USB 3.0 (front)
1 x USB 2.0 (rear)
1 x COM (RJ45)
(front)
1 x VGA (rear)
2 x USB 3.0 (front)
1 x USB 2.0 (rear)
1 x COM (RJ45)
(front)
1 x VGA (rear)
Display
Multi-function
LCD module
Multi-function
LCD module
Power supply
Internal autoranging
110250VAC,
48-62 Hz
Internal autoranging
110250VAC,
48-62 Hz
Physical specifications
Environment
Mounting
1U rack mount
(2 rackmount ears included)
Power consumption
52W, 180 BTU/hr, 0.61A@110V
(idle), 78W, 266 BTU/hr,
0.87A@110V (full load)
Dimensions
Width x Depth x Height
438 x 292 x 44mm
17.24 x 11.5 x 1.75 inches
Operating temperature
0-40°C (operating)
-20 to +80°C (storage)
Weight
5.1 Kg / 11.24 lbs (unpacked)
7.05 Kg / 15.54 lbs (packed)
Humidity
10%-90%, non-condensing

Safety Certifications
Certifications
CE, FCC Class A, CB, VCCI, C-Tick, UL
How to Buy:
Three simple steps will get you complete security with Sophos UTM
Choose How To Deploy
Hardware, software, virtual or cloud-based appliance
Choose Your License
Choose pre-packaged licenses or license modules individually
Choose to Extend Your Protection
Plug in Sophos access points for Secure Wi-Fi and with Sophos RED extend protection to branch offices
You can read more about these steps below. And if you need help deciding what's right for you, simply contact us. We'll both be happy to help.
Choose How To Deploy
Choose the right appliance for your environment—is it hardware, software, virtual or even cloud-based?
Hardware
Our range of models fit any environment and are purpose-built to deliver high-performance. They integrate our security applications with a hardened operating system (OS) on optimized Intel-compatible server systems.
Virtual
Virtual appliances are certified as VMware Ready and Citrix Ready. They also run in Microsoft Hyper-V and KVM virtual environments.
Software
Easily installs on your existing hardware.
Cloud-based appliances
Using Amazon Virtual Private Cloud (VPC), you can run the appliance in the cloud. Or, you can use the Amazon VPC connector on the appliance at your office for secure and robust access to your Amazon-hosted resources.
Choose Your License
We give you the flexibility to license our protection modules individually. Or, you can choose one of our pre-packaged licenses. Whatever suits your needs.
Modules
Next-Gen Firewall
BasicGuard
FullGuard
Essential Firewall – Free Network Firewall, NAT, Native Windows Remote Access
Datasheet
Full
Full
Full
Network Protection IPSec/SSL VPN, Intrusion Prevention, DoS Protection
Datasheet
Full
Basic
Full
Web Protection URL Filtering, Application Control, Dual Engine Antivirus
Datasheet
Full
Basic
Full
Email Protection Anti-spam, Email Encryption, Dual Engine Antivirus
Datasheet
Optional
Basic
Full
Wireless Protection Wireless Controller, Multi-SSID Support, Captive Portal
Datasheet
Optional
Basic
Full
Webserver Protection Web Application Firewall, Reverse Proxy, Antivirus
Datasheet
Optional
-
Full
Endpoint Protection Antivirus, HIPS, Device Control
Datasheet
Optional
Optional
Optional
Choose to Extend Your Protection
Choose the accessories you need to protect your branch offices and deploy secure Wi-Fi too:
Sophos RED Secure your branch offices by forwarding all traffic to the central Sophos UTM. Installation requires no technical training and there is no ongoing maintenance.
Security Applications:
Our Linux-based OS includes a free Essential Network Firewall. It provides fundamental security like firewalling, networking tools, routing and secure remote access. And our modular approach lets you add layers of protection as your needs evolve.
UTM Network Protection stops sophisticated attacks that a firewall alone can't stop.
Configurable intrusion protection system and flood protection against denial of service attacks
Sophos RED, IPsec and SSL tunnels provide flexible site-to-site and remote-access VPN connections
UTM Email Protection stops spam and viruses and keeps sensitive data safe.
Let users manage their spam quarantine and search a personalized mail log
Keep infected emails out of your mailbox and protect confidential emails against illegitimate access.
UTM Web Protection lets you protect your employees from web threats and control their time online.
Limit use of unwanted applications while giving priority to business critical resources
Create dynamic reports on the fly to check if your policy is working and make adjustments
UTM Webserver Protection hardens web servers and apps ensuring compliance with a web application firewall.
Protect personally identifiable information like credit card and social security numbers
Inspects information submitted via forms on your websites to prevent server exploits
UTM Wireless Protection gives you secure Wi-Fi in minutes.
Centrally manage access points through the UTM's built-in wireless controller
Easily set up wireless hotspots and grant guest access with a simple voucher-based system
UTM Endpoint Protection provides desktops, laptops, and servers with antivirus, device and web control.
Scans files, webpages and devices blocking or cleaning threats
Device control reduces the risk of data loss and malware by managing removable devices
Built-in URL filtering ensures users get the same level of web protection outside of the office as they do inside
Add modules when you need them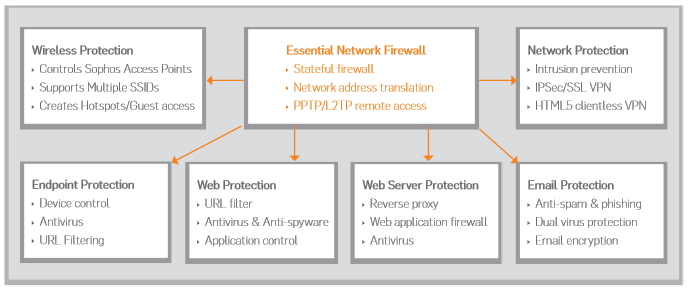 Pricing Notes:
If your existing SG appliance does not have an active subscription or license, you will need to purchase a new license.
If you currently have an active subscription with an existing SG appliance, you can renew that subscription license by purchasing the renewal.
AP warranty is not included for the SG Wireless Subscriptions and will need to be purchased separately
SG TotalProtect
includes: Appliance, FullGuard Subscription (Network Protection, Web Protection, Email Protection, Wireless Protection and Webserver Protection) and Sophos 24/7 support
SG TotalProtect Plus
Include: Wireless Appliance, FullGuard Plus Subscription (Network Protection, Web Protection, Email Protection, Wireless Protection, Webserver Protection and Sandstorm ) and Sophos 24/7 support
SG FullGuard
Includes Network Protection, Web Protection, Email Protection, Wireless Protection and Webserver Protection
SG FullGuard Plus
Includes Network Protection, Web Protection, Email Protection, Wireless Protection, Webserver Protection and Sandstorm
Pricing and product availability subject to change without notice.
Sophos Products
SG 210 Security Appliance
Sophos SG 210 Rev.3 Security Appliance - US power cord
#SG21T3HUS
List Price: $2,023.00
Add to Cart for Pricing
Sophos SG 210 TotalProtect 24x7
SG TotalProtect includes: Appliance, FullGuard Subscription (Network Protection, Web Protection, Email Protection, Wireless Protection and Webserver Protection) and Sophos 24/7 support
Sophos SG 210 Rev.3 TotalProtect 24x7, 1-year (US power cord)
#SB2113SUSK
List Price: $4,538.00
Add to Cart for Pricing
Sophos SG 210 Rev.3 TotalProtect 24x7, 2-year (US power cord)
#SB2123SUSK
List Price: $7,052.00
Add to Cart for Pricing
Sophos SG 210 Rev.3 TotalProtect 24x7, 3-year (US power cord)
#SB2133SUSK
List Price: $9,566.50
Add to Cart for Pricing
SG 210 TotalProtect Plus 24x7
SG TotalProtect Plus includes Appliance, FullGuard Plus Subscription (Network Protection, Web Protection, Email Protection, Wireless Protection, Webserver Protection and Sandstorm ) and Sophos 24/7 support
Sophos SG 210 Rev.3 TotalProtect Plus 24x7, 1-year (US power cord)
#SP2113SUSK
List Price: $5,266.50
Add to Cart for Pricing
Sophos SG 210 Rev.3 TotalProtect Plus 24x7, 2-year (US power cord)
#SP2123SUSK
List Price: $8,511.00
Add to Cart for Pricing
Sophos SG 210 Rev.3 TotalProtect Plus 24x7, 3-year (US power cord)
#SP2133SUSK
List Price: $11,755.00
Add to Cart for Pricing
SG 210 FullGuard 24x7 Bundle Subscription - New License
SG FullGuard includes Network Protection, Web Protection, Email Protection, Wireless Protection and Webserver Protection
Sophos SG 210 FullGuard 24x7- 12 MOS
#FG211CSPA
List Price: $2,514.50
Add to Cart for Pricing
Sophos SG 210 FullGuard 24x7 - 24 MOS
#FG212CSPA
List Price: $5,029.00
Add to Cart for Pricing
Sophos SG 210 FullGuard 24x7 - 36 MOS
#FG213CSPA
List Price: $7,543.50
Add to Cart for Pricing
SG 210 FullGuard Subscription - New License
SG FullGuard includes Network Protection, Web Protection, Email Protection, Wireless Protection and Webserver Protection
Sophos SG 210 FullGuard - 12 MOS
#FG211CSAA
List Price: $2,023.00
Add to Cart for Pricing
Sophos SG 210 FullGuard - 24 MOS
#FG212CSAA
List Price: $4,046.00
Add to Cart for Pricing
Sophos SG 210 FullGuard - 36 MOS
#FG213CSAA
List Price: $6,069.00
Add to Cart for Pricing
SG 210 FullGuard Plus 24x7 Bundle Subscription - New License
SG FullGuard Plus includes Network Protection, Web Protection, Email Protection, Wireless Protection, Webserver Protection and Sandstorm
Sophos SG 210 FullGuard Plus 24x7- 12 MOS
#FG211CSPS
List Price: $3,244.00
Add to Cart for Pricing
Sophos SG 210 FullGuard Plus 24x7 - 24 MOS
#FG212CSPS
List Price: $6,488.00
Add to Cart for Pricing
Sophos SG 210 FullGuard Plus 24x7 - 36 MOS
#FG213CSPS
List Price: $9,732.00
Add to Cart for Pricing
SG 210 FullGuard Plus Subscription - New License
SG FullGuard Plus includes Network Protection, Web Protection, Email Protection, Wireless Protection, Webserver Protection and Sandstorm
Sophos SG 210 FullGuard Plus - 12 MOS
#FG211CSSA
List Price: $2,751.00
Add to Cart for Pricing
Sophos SG 210 FullGuard Plus - 24 MOS
#FG212CSSA
List Price: $5,502.00
Add to Cart for Pricing
Sophos SG 210 FullGuard Plus - 36 MOS
#FG213CSSA
List Price: $8,253.00
Add to Cart for Pricing
SG 210 Email Protection - New License
Sophos SG 210 Email Protection - 12 MOS
#EM211CSAA
List Price: $811.00
Add to Cart for Pricing
Sophos SG 210 Email Protection - 24 MOS
#EM212CSAA
List Price: $1,622.00
Add to Cart for Pricing
Sophos SG 210 Email Protection - 36 MOS
#EM213CSAA
List Price: $2,433.00
Add to Cart for Pricing
SG 210 Network Protection - New License
Sophos SG 210 Network Protection - 12 MOS
#NP211CSAA
List Price: $560.00
Add to Cart for Pricing
Sophos SG 210 Network Protection - 24 MOS
#NP212CSAA
List Price: $1,120.00
Add to Cart for Pricing
Sophos SG 210 Network Protection - 36 MOS
#NP213CSAA
List Price: $1,680.00
Add to Cart for Pricing
SG 210 Web Protection - New License
Sophos SG 210 Web Protection - 12 MOS
#WB211CSAA
List Price: $1,008.00
Add to Cart for Pricing
Sophos SG 210 Web Protection - 24 MOS
#WB212CSAA
List Price: $2,016.00
Add to Cart for Pricing
Sophos SG 210 Web Protection - 36 MOS
#WB213CSAA
List Price: $3,024.00
Add to Cart for Pricing
SG 210 Webserver Protection - New License
Sophos SG 210 Webserver Protection - 12 MOS
#WS211CSAA
List Price: $771.50
Add to Cart for Pricing
Sophos SG 210 Webserver Protection - 24 MOS
#WS212CSAA
List Price: $1,543.00
Add to Cart for Pricing
Sophos SG 210 Webserver Protection - 36 MOS
#WS213CSAA
List Price: $2,314.50
Add to Cart for Pricing
SG 210 Wireless Protection - New License
Sophos SG 210 Wireless Protection - 12 MOS
#WI211CSAA
List Price: $406.00
Add to Cart for Pricing
Sophos SG 210 Wireless Protection - 24 MOS
#WI212CSAA
List Price: $812.00
Add to Cart for Pricing
Sophos SG 210 Wireless Protection - 36 MOS
#WI213CSAA
List Price: $1,218.00
Add to Cart for Pricing
SG 210 Sandstorm - New License
Sophos Zero-Day Protection for SG 210 - 12 MOS
#SS211CSAA
List Price: $809.50
Add to Cart for Pricing
Sophos Zero-Day Protection for SG 210 - 24 MOS
#SS212CSAA
List Price: $1,619.00
Add to Cart for Pricing
Sophos Zero-Day Protection for SG 210 - 36 MOS
#SS213CSAA
List Price: $2,428.50
Add to Cart for Pricing
SG 210 FullGuard 24x7 Bundle Subscription - Renewal
SG FullGuard includes Network Protection, Web Protection, Email Protection, Wireless Protection and Webserver Protection
Sophos SG 210 FullGuard 24x7 - 12 MOS - RENEWAL
#FG211CTPA
List Price: $2,388.50
Add to Cart for Pricing
Sophos SG 210 FullGuard 24x7 - 24 MOS - RENEWAL
#FG212CTPA
List Price: $4,777.00
Add to Cart for Pricing
Sophos SG 210 FullGuard 24x7 - 36 MOS - RENEWAL
#FG213CTPA
List Price: $7,165.50
Add to Cart for Pricing
SG 210 FullGuard Subscription - Renewal
SG FullGuard includes Network Protection, Web Protection, Email Protection, Wireless Protection and Webserver Protection
Sophos SG 210 FullGuard - 12 MOS - RENEWAL
#FG211CTAA
List Price: $1,922.50
Add to Cart for Pricing
Sophos SG 210 FullGuard - 24 MOS - RENEWAL
#FG212CTAA
List Price: $3,845.00
Add to Cart for Pricing
Sophos SG 210 FullGuard - 36 MOS - RENEWAL
#FG213CTAA
List Price: $5,767.50
Add to Cart for Pricing
SG 210 FullGuard Plus 24x7 Bundle Subscription - Renewal
SG FullGuard Plus includes Network Protection, Web Protection, Email Protection, Wireless Protection, Webserver Protection and Sandstorm
Sophos SG 210 FullGuard Plus 24x7 - 12 MOS - RENEWAL
#FG211CTPS
List Price: $3,081.50
Add to Cart for Pricing
Sophos SG 210 FullGuard Plus 24x7 - 24 MOS - RENEWAL
#FG212CTPS
List Price: $6,163.00
Add to Cart for Pricing
Sophos SG 210 FullGuard Plus 24x7 - 36 MOS - RENEWAL
#FG213CTPS
List Price: $9,244.50
Add to Cart for Pricing
SG 210 FullGuard Plus Subscription - Renewal
SG FullGuard Plus includes Network Protection, Web Protection, Email Protection, Wireless Protection, Webserver Protection and Sandstorm
Sophos SG 210 FullGuard Plus - 12 MOS - RENEWAL
#FG211CTSA
List Price: $2,614.00
Add to Cart for Pricing
Sophos SG 210 FullGuard Plus - 24 MOS - RENEWAL
#FG212CTSA
List Price: $5,228.00
Add to Cart for Pricing
Sophos SG 210 FullGuard Plus - 36 MOS - RENEWAL
#FG213CTSA
List Price: $7,842.00
Add to Cart for Pricing
SG 210 Email Protection - Renewal
Sophos SG 210 Email Protection - 12 MOS - RENEWAL
#EM211CTAA
List Price: $770.00
Add to Cart for Pricing
Sophos SG 210 Email Protection - 24 MOS - RENEWAL
#EM212CTAA
List Price: $1,540.00
Add to Cart for Pricing
Sophos SG 210 Email Protection - 36 MOS - RENEWAL
#EM213CTAA
List Price: $2,310.00
Add to Cart for Pricing
SG 210 Network Protection - Renewal
Sophos SG 210 Network Protection - 12 MOS - RENEWAL
#NP211CTAA
List Price: $532.00
Add to Cart for Pricing
Sophos SG 210 Network Protection - 24 MOS - RENEWAL
#NP212CTAA
List Price: $1,064.00
Add to Cart for Pricing
Sophos SG 210 Network Protection - 36 MOS - RENEWAL
#NP213CTAA
List Price: $1,596.00
Add to Cart for Pricing
SG 210 Web Protection - Renewal
Sophos SG 210 Web Protection - 12 MOS - RENEWAL
#WB211CTAA
List Price: $958.00
Add to Cart for Pricing
Sophos SG 210 Web Protection - 24 MOS - RENEWAL
#WB212CTAA
List Price: $1,916.00
Add to Cart for Pricing
Sophos SG 210 Web Protection - 36 MOS - RENEWAL
#WB213CTAA
List Price: $2,874.00
Add to Cart for Pricing
SG 210 Webserver Protection - Renewal
Sophos SG 210 Webserver Protection - 12 MOS - RENEWAL
#WS211CTAA
List Price: $732.50
Add to Cart for Pricing
Sophos SG 210 Webserver Protection - 24 MOS - RENEWAL
#WS212CTAA
List Price: $1,465.00
Add to Cart for Pricing
Sophos SG 210 Webserver Protection - 36 MOS - RENEWAL
#WS213CTAA
List Price: $2,197.50
Add to Cart for Pricing
SG 210 Wireless Protection - Renewal
Sophos SG 210 Wireless Protection - 12 MOS - RENEWAL
#WI211CTAA
List Price: $386.50
Add to Cart for Pricing
Sophos SG 210 Wireless Protection - 24 MOS - RENEWAL
#WI212CTAA
List Price: $773.00
Add to Cart for Pricing
Sophos SG 210 Wireless Protection - 36 MOS - RENEWAL
#WI213CTAA
List Price: $1,159.50
Add to Cart for Pricing
SG 210 Sandstorm - Renewal
Sophos Zero-Day Protection for SG 210 - 12 MOS - RENEWAL
#SS211CTAA
List Price: $769.00
Add to Cart for Pricing
Sophos Zero-Day Protection for SG 210 - 24 MOS - RENEWAL
#SS212CTAA
List Price: $1,538.00
Add to Cart for Pricing
Sophos Zero-Day Protection for SG 210 - 36 MOS - RENEWAL
#SS213CTAA
List Price: $2,307.00
Add to Cart for Pricing
SG 210 Premium Support - New License
Sophos SG 210 Premium Support - 12 MOS
#PR211CEAA
List Price: $491.50
Add to Cart for Pricing
Sophos SG 210 Premium Support - 24 MOS
#PR212CEAA
List Price: $983.00
Add to Cart for Pricing
Sophos SG 210 Premium Support - 36 MOS
#PR213CEAA
List Price: $1,474.50
Add to Cart for Pricing
SG 210 Premium Support - Renewal
Sophos SG 210 Premium Support - 12 MOS - RENEWAL
#PR211CFAA
List Price: $466.50
Add to Cart for Pricing
Sophos SG 210 Premium Support - 24 MOS - RENEWAL
#PR212CFAA
List Price: $933.00
Add to Cart for Pricing
Sophos SG 210 Premium Support - 36 MOS - RENEWAL
#PR213CFAA
List Price: $1,399.50
Add to Cart for Pricing
LAN Modules & Transceivers
Sophos 8 port GbE copper Flexi Port module (for SG/XG 2xx/3xx/4xx only)
#SGIZTCHC8
List Price: $973.50
Add to Cart for Pricing
Sophos 8 port GbE SFP Flexi Port module (for SG/XG 2xx/3xx/4xx only)
#SGIZTCHF8
List Price: $973.50
Add to Cart for Pricing
Sophos 8 port GbE PoE Flexi Port module + Power Supply Kit (for SG/XG 210 rev.3 & 230/3xx/4xx rev.2) with US Power Cord
#SGIZT2HUS
List Price: $1,393.50
Add to Cart for Pricing
Sophos 4 port 10GbE SFP+ Flexi Port module (for SG/XG 2xx/3xx/4xx all revs)
#SGIZTCHF4
List Price: $1,813.50
Add to Cart for Pricing
Sophos 4 port GbE PoE Flexi Port module + Power Supply Kit (for SG/XG 210 rev.3 & 230/3xx/4xx rev.2) with US Power Cord
#SGIZT2JUS
List Price: $973.50
Add to Cart for Pricing
Sophos 2 port 10GbE SFP+ Flexi Port module (for SG/XG 2xx/3xx/4xx only)
#SGIZTCHF2
List Price: $1,113.50
Add to Cart for Pricing
Sophos 2 port 40GbE QSFP+ Flexi Port Module (SG/XG 210 rev.3 & 230/3xx/4xx rev.2 )
#SGSZT2HF2
List Price: $2,233.50
Add to Cart for Pricing
Sophos XRP200 External Redundant Power Supply (for SG/XG 210 rev.3 & 230/3xx/430 rev.2) with US Power Cord
#SGXZT2HUS
List Price: $553.00
Add to Cart for Pricing
Sophos 1000Base-LX Fiber Transceiver (GBIC) - for UTM/SG/XG SFP ports
#ITFZTCHLX
List Price: $542.50
Add to Cart for Pricing
Sophos 1000Base-SX Fiber Transceiver (GBIC) - for UTM/SG/XG SFP ports
#ITFZTCHSX
List Price: $203.50
Add to Cart for Pricing
Sophos 1000Base-T Copper Transceiver (GBIC) - for UTM/SG/XG SFP ports
#ITFZTCHTC
List Price: $316.50
Add to Cart for Pricing
Sophos Dual Rate 10GBase-LR 10GbE Fiber Transceiver (GBIC), for UTM/SG/XG SFP+ ports
#ITFZTCHLR
List Price: $966.50
Add to Cart for Pricing
Sophos Dual Rate 10GBase-SR 10GbE Fiber Transceiver (GBIC), for UTM/SG/XG SFP+ ports
#ITFZTCHXF
List Price: $740.50
Add to Cart for Pricing