Sophos XGS Next-Gen Firewalls

Powerful Protection and Performance

XGS Series Desktop
Excellent value and all-in-one connectivity for all your branch office, retail outlet, and small business needs.
---
XGS Series 1U Rackmount
Performance and versatile connectivity options to meet the security infrastructure needs of larger SMB and mid-sized organizations.
---
XGS Series 2U Rackmount
No-compromise performance, connectivity, and redundancy to power the most demanding distributed enterprise networks.
---
XGS Series Features
Xstream Protection
Sophos Firewall's Xstream architecture protects your network from the latest threats while accelerating your important SaaS, SD-WAN, and cloud application traffic.
TLS 1.3 Decryption


Remove an enormous blind spot with intelligent TLS inspection that's fast and effective, supporting the latest standards with extensive exceptions and point-and-click policy tools to make your job easy.

Deep Packet Inspection


Stop the latest ransomware and breaches with high-performance streaming deep packet inspection, including next-gen IPS, web protection, and app control, as well as deep learning and sandboxing powered by SophosLabs Intelix.

Application Acceleration


Accelerate your SaaS, SD-WAN, and cloud traffic such as VoIP, video, and other trusted applications automatically or via your own policies, putting them on the Xstream FastPath to optimize performance.

---
Powerful Performance
The XGS Series delivers Xstream performance at every price point to power the protection you need for today's diverse, distributed, and encrypted networks.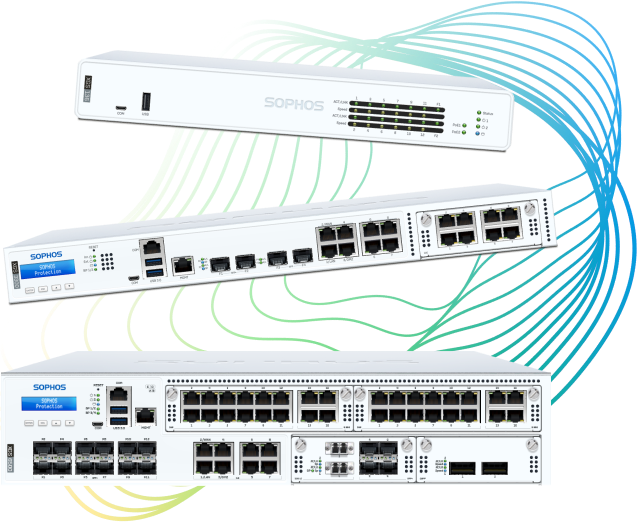 Powered by Xstream


Accelerate and offload your important SaaS, SD-WAN, and cloud traffic at the hardware level, while adding performance headroom for TLS and deep packet inspection with integrated Xstream Flow Processors.

High-Speed Connectivity


Customize your firewall's already versatile connectivity options with an extensive range of add-on modules for high-speed copper, fiber, Power over Ethernet (PoE), and Wi-Fi.

Purpose-Built Performance


Rest assured, your firewall is purpose-built from the core to handle the most demanding workloads with a dual processor architecture, generous memory provisioning, and high-performance solid-state storage.
---
Visibility and Protection

Networking and Access

Management and Reporting
Visibility and Protection
Sophos Firewall offers the best protection to stop the latest hacks and attacks dead in their tracks – before they get on your network.
---
Deep Packet Inspection
The Xstream Deep-Packet Inspection (DPI) engine provides high-performance traffic scanning for IPS, AV, Web Protection, and App Control in a single streaming engine.
Encrypted Traffic
Xstream TLS Inspection 1.3 with industry-leading performance, visibility, policy tools, and built-in intelligence removes an enormous blind spot in your protection.
Synchronized Security
Our revolutionary Security Heartbeat links your Sophos managed endpoint with your firewall to share health and other valuable information enabling an automated and coordinated response to isolate threats and prevent lateral movement.
Cloud Sandbox
Sophos Zero-day Dynamic File Analysis uses next-gen cloud-sandbox technology powered by deep-learning and the best technology from Intercept X, to provide your organization with the best protection against zero-day threats like the latest ransomware and targeted attacks coming in through phishing, spam, or web downloads.
Web Protection
Sophos' Web Protection engine is backed by SophosLabs and includes innovative technologies required to identify and block the latest web threats.
Zero-Day and ML Protection
Sophos Firewall leverages Sophos' industry-leading machine learning technology (powered by SophosLabs Intelix) to instantly identify the latest ransomware and unknown threats before they get on your network
Advanced Threat Protection
Sophos Firewall delivers advanced threat protection to instantly identify bots and other advanced threats while defending your network from today's sophisticated attacks.
User Identity
User identity-based policies and unique user risk analysis give you the knowledge and power to regain control of your users before they become a serious threat to your network.
Application Control
Complete application visibility and control over all applications on your network with deep-packet scanning technology and Synchronized App Control that can identify all the applications that are currently going unidentified on your network.
Web Control
Full visibility and control over all your web traffic with flexible enforcement tools that work the way you need, with options for user and group enforcement of activity, quotas, schedules, and traffic shaping.
Content Control
Flexible, user-based monitoring and control of keyword content and downloadable content, including files types via FTP, HTTP, or HTTPS.
Business Applications
Combine next-gen firewall capabilities with our enterprise-class web application firewall to protect your critical business applications from hacks and attacks while still enabling authorized access.
Email and Data
Protect your email from spam, phishing, and data loss with our unique all-in-one protection that combines policy-based email encryption with DLP and anti-spam
Networking and Access
Sophos Firewall offers the most complete portfolio of secure edge access solutions, VPN , SD-WAN, and core networking capabilities to fit any network.
---
SD-WAN
Sophos Firewall integrates all the features you need to enable your SD-WAN connectivity, quality, security, and continuity goals.
Site-to-Site VPN
Sophos Firewall supports all standards-based VPN technologies as well as our own light-weight extremely robust layer 2 RED tunnels.
Remote Access VPN
Sophos Connect is a free VPN client for remote access that makes supporting a remote workforce easy.
SD-RED
A Sophos exclusive, SD-RED provide a unique and affordable secure edge access device for SD-Branch, SOHO, and industrial control solutions.
Wireless Controller
Every Sophos Firewall includes an integrated wireless controllers to enable easy secure wireless deployments for our APX wireless access points, all managed from a single console.
ZTNA
Sophos Firewall integrates with Sophos Zero Trust Network Access (ZTNA) to offer a secure and simple way for users to securely connect to important applications and data.
Core Networking
Sophos Firewall offers the most advanced enterprise-grade networking technology available for NAT, routing, and bridging.
Segmentation
Flexible and powerful segmentation options via zones and VLANs provide ways to separate levels of trust on your network while enabling added protection against lateral movement between different parts of your network.
Management and Reporting
Sophos Central is your single-pane-of-glass for managing your entire cybersecurity portfolio. From endpoint, to mobile, to ZTNA, and of course, all your firewalls, no one offers this level of management integration and ease of use.
---
Sophos Central Management
Sophos Central provides powerful centralized management, reporting, and zero-touch deployment for all your XG Firewalls and other Sophos products from a single console.
Central Firewall Reporting
Central Firewall Reporting Advanced, provides flexible and powerful tools to create your own custom views of network activity and threats across your entire network.
Dashboard and alerts
Sophos Firewall's carefully crafted control center analyzes extensive back-end data sources to surface just the information you need to respond quickly to changes in your network.
Free Reporting
Sophos Firewall is unique in providing extensive, free on-box reporting and limited cloud-based reporting at no extra charge.